Whenever you build a new house you always plan for everything perfect because people don't build a house every day or every year, its always once in a lifetime. Planning is one of the mandatory stuff before building a new house and once your plan is ready you can go for building it. One of the most important section of a house is the kitchen where you keep all the appliances and equipment. So the interior of the kitchen is yet a challenging part and every family wants their kitchen to be beautiful and attractive. To help you out we have come up with an idea of best color for kitchen you can try out for your home, check out below to know more.
White, Robins Egg Blue and Dove Gray:
When it comes to the small-scaled sized kitchen the combination of White, Robins Egg Blue and Dove Gray is the best one you can try. White walls, ceilings and the counters reflect the light and enhance the beauty of your kitchen, due to this your kitchen will also appear to be larger. The robin's egg blue colour for chairs and kitchen doors displays the best combination for the perfect match along with the Dove Gray will give some extra details to the kitchen interiors.
Paprika, Cinnamon and Curry: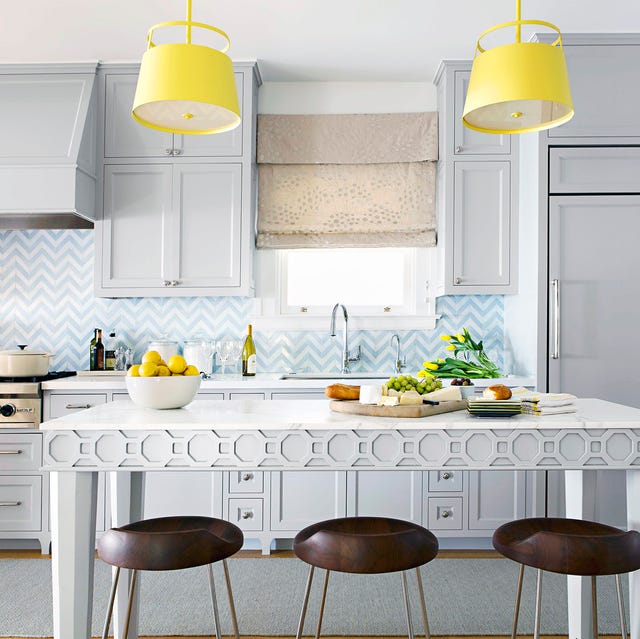 If you love bright colours and your kitchen room is directly accessible to sunlight through windows then the combination of Paprika, Cinnamon and Curry will be the best color for kitchen for amazing interiors. Red tones are a great choice of colours for small-sized kitchens, it will give a good reflection of light both during daylighting conditions and during the night in artificial lighting condition as well. The combination of Cinnamon and Curry with red Paprika color balances the rich tone and the contrast of red color which hence displays great interior.
Turquoise, Chartreuse and Goldenrod Yellow:
For the love of those who still want to have a retro look in their kitchen then the combination of Turquoise, Chartreuse and Goldenrod Yellow will enhance the look of your kitchen as per your needs. This paint finish enhances the cabinet finish along with doors and other cabinets.
The above mentioned was the best color for kitchen, hope we have provided you with enough information based on this topic. If you have any doubts regarding this topic then make sure you mention in the comment section below.
Thank You for visiting.